Antiquie Nationals
50th Anniversary
Pre 1959 Antique Drag Racing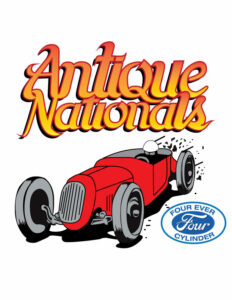 Saturday, May 9th, 2020
Auto Club Dragway
9300 Cherry Avenue, Fontana, CA 92335
IG-@antique_Nationals/www.FourEverFour.com
Racing is open to all 1959 and earlier vehicles and motorcycles.
All Race Entries must pass tech inspection which requires to
meet NHRA track Street Legal rules; Seat Belts, Helmets, Long
Pants and Shoes, Radiator overflow catch cans, and double Spring
Returns on throttles are minimum Street Legal/Track Rules.
All open cars are required to have arm restraints. Open cars
running 13.49 seconds or quicker are required to have an approved
roll bar. All Cars running 10.99 seconds or qucker and faster than
135 MPH are required to have NHRA approved Roll Cage.
Specialty Vehicles such as Vintage Dragsters can refer to NHRA
rule book for Nostalgia Dragster, and/or general rules section 4.
Please call and/or submit photos for reference if you are concerned
about your entry passing tech inspection. This is a fun event to
bring out cars that usually cannot race in faster classes or events.
But the track tech staff still has to fit our cars into their NHRA
rulebook for insurance and liability reasons.
Racing and set-up Information:
Friday, May 8th 3:00 pm to 7:00 pm*
Saturday, May 9th 7:00 am Gates Open
*Track gates close promptly at 7 pm (no in and out)
Racing Hours:
Tech - Friday, May 8th 3:00 pm to 6:00 pm
Tech - Saturday, May 9th 8:00 am to 10:30am
Drivers Meeting 8:45 am
Morning Time Trials 9:00 am to 12:30pm
Eliminations after 1:00 pm
Final Grudge Matches after Eliminations
We hope to see you there. For more informaiton
please call Clark Crump at 909-294-5321 and see
www.foureverfour.com 
Note: Antique Nationals Host Hotel is the Best Western
Heritage Inn 8179 Spruce Ave. Rancho Cucamonga, CA
91730. (855)-479-0732. A small number of rooms have
been blocked out for the event. Mention the Antique
Nationals to see if discount is still available.