Events
Races, Hill Climbs, Swap Meets, Car Shows. 
FOR 2021 THE ANTIQUE NATIONALS WILL BE HELD IN THE FALL AT IRWINDALE SPEEDWAY.  THIS WILL BE THE 49th RUNNING OF THE ANTIQUE NATIONALS.
SUNDAY SUNDAY SUNDAY OCTOBER 17th 2021 SAVE THE DATE, TELL YOUR FRIENDS, TUNE UP THOSE BANGERS, FLATHEADS, IN-LINERS, AND ANTIQUE RIDES AND HOT RODS FOR THE 49th RUNNING OF THE ANTIQUE NATIONALS
LOOK FORWARD TO OUR 50th RUNNING (ANNUAL) ANTIQUE NATIONALS IN THE SPRING OF 2022.  CHECK BACK TO OUR WEBSITE FOR MORE INFORMATION. STAY SAFE AND STAY HEALTHY
Pre-Sale Tickets available online at:
THEFOAT.com - Search for Antique Nationals
or type thefoat.com/904438
https://tickets.thefoat.com/AntiqueNationals/49th+Antique+Nationals/tickets/event-38470/
 SUNDAY OCTOBER 17th 2021"
49th Running of the Antique Nationals
4 ever 4 Club's Signature Annual Event  
Racing is Open to pre-1959 Cars, Trucks, and Motorcycles (Whizzerz Too) -
The Traditional Hot Rod and Kustom car show open to pre-1974 Vehicles and Motorcycles
The Antique Nationals were continuously ran for 48 years straight until 2019 when the 49th annual event was cancelled due to bad weather forcast.  We then planned to run the 50th annual Antique Nationals (1970-2020) in the Spring of 2020.      But due to Covid 19, racing was cancelled the rest of the year, and the beginning of 2021.  With both the 49th and 50th annual races missing thier continuous racing dates, we have decided to re-set our racing event numbers, and go back to the "Race that Never Was" this Fall with the 49th Running of the Antique Nationals in Irwindale California on Sunday October 17th 2021
Irwindale Speedway Dragstrip
500 Speedway Drive
Irwindale, CA
See Below for more Information
See 2021 Antique Nationals page for more Race Entry info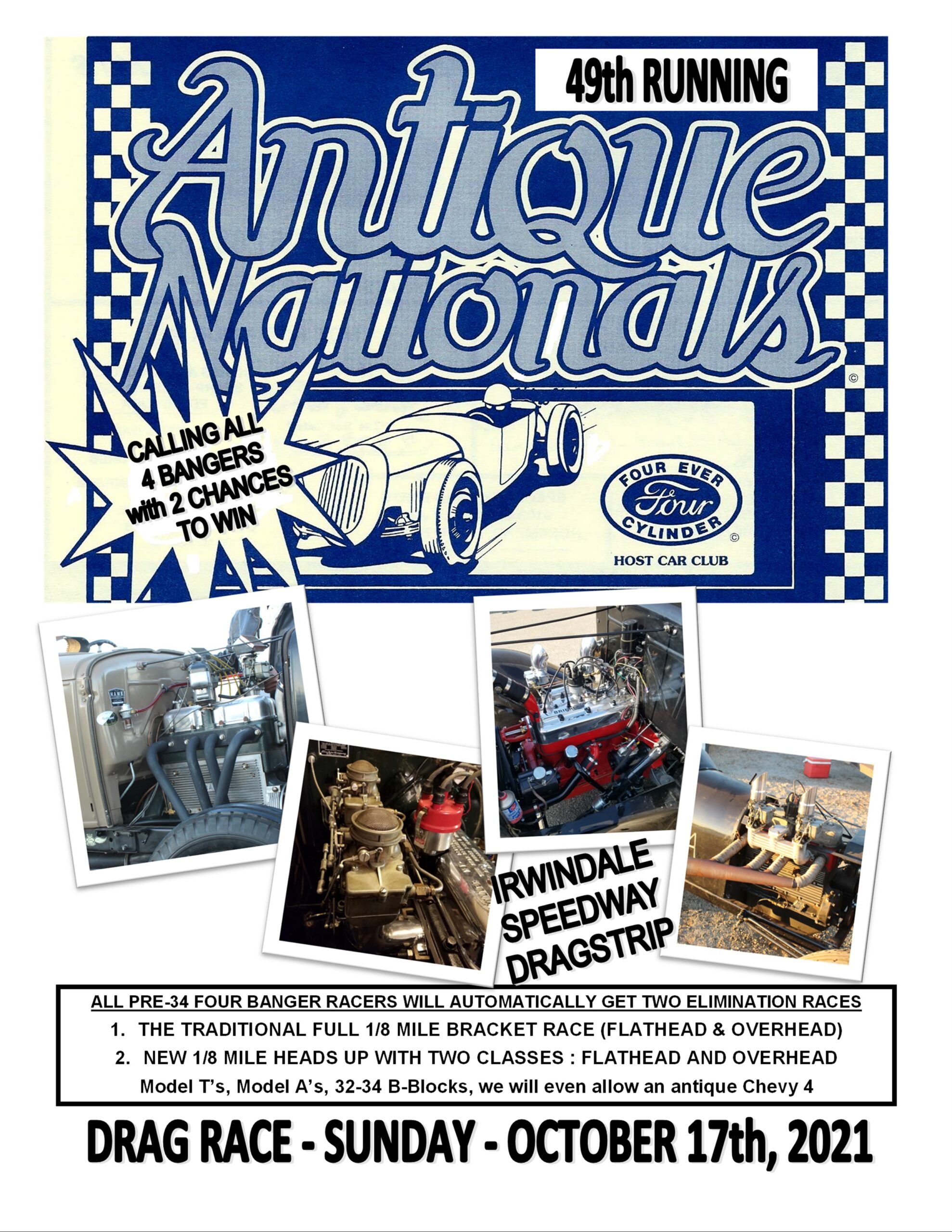 Coming together is the beginning. Keeping together is progress. Working together is success.

-- Henry Ford